Silke Eilers
Physiotherapist, (almost) always involved in sports: e.g.: jogging, tennis, inline skating, skiing workouts, Alpine skiing, hockey, swimming, golf, lots of cycling.
After graduating from high school and completing an au pair residency in L.A.: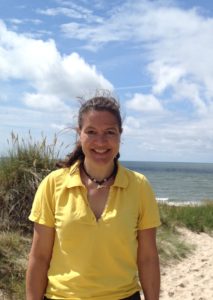 Formal physiotherapy training (exams 1992) in Berlin
Furthermore:
Nordic Walking Instructor, licence granted by VDNOWAS
Certified WATSU Practitioner
Fitness Trainer "B" Licence
Aquagolf Trainer
Golf Physio Fitness Trainer
Physio Core Personal Trainer
Pilates matwork Trainer
Hiking guide

Employment History:
Campus Benjamin Franklin (CBF), Berlin
German Heart Institute Berlin (DHZB)
Biberburg Orthopaedic Associates, Berlin
Health Centre at a club resort on Fuerteventura, Spain
Institute for Mobile Rehabilitation and Sports Medicine (IFARUS), Berlin-Zehlendorf
Sports physiotherapist for a men's first-league hockey team.
Since 2006 I have been working as a freelance Personal Physio Trainer.

Professional Development:
Manual Therapy and Cyriax Method at IAOM (International Academy of Orthopaedic Medicine)
Manual Lymph Drainage and Complex Physical Anti-Oedema Therapy according to Földi
Equipment-aided Exercise Therapy
Functional Movement Training Course (FBL) according to Klein-Vogelbach
Golf Physio Training
Physio Core Personal Training
Naturopath for physiotherapy

Temporarily studying Human Medicine at the Freie Universität (FU) Berlin.

Key Treatment Areas:
Orthopaedics
Sports Medicine

Languages:
English
Basic Spanish

The idea behind 'fit-by -physio':
I see it as my duty to offer competent, professional medical guidance in order to facilitate self-help, allowing you to achieve your long-term fitness goals and maintain your physical condition. Using Personal PhysioTraining, I would like to show you that even the most basic physical activity can be a fun and pleasant experience. And that also applies to those of you who have never enjoyed doing sports!

Prices:
All services are charged from 1,90 €/min. not including travel costs, entry fees, pool rental etc.